What do we call the leaders of the Houses?
Try to fill in the blanks with the poll options to see which sounds right:


The twelve [____] are the leaders of the Order of Eläinrata.

That man is the [____] of the House of Leo.

Every [____] has the ability to wield the Eläinrata.

If you don't like any of the options suggested, feel free to suggest another one in this thread. You're also allowed to post which option
you
picked, along with the reasons why you picked it. Good luck, that the best option may win!
Admin




Posts

: 68


Join date

: 2015-01-07



Just to explain what I voted and why: I voted for Captain, because I'm used to being called "Captain" from back in the day with Hellsing (my very first RP on IMVU). Additionally, this gives us the chance to call our regular members "Soldiers" or something along those lines, to have a matching name.

My second choice would have to be "Paladin" because I think it sounds noble and fits the organization name "Order of Eläinrata". This name would let us choose "Knights" or another matching name for regular members.



Posts

: 7


Join date

: 2015-01-08



I'm hereby ending the vote because the majority of our members has voted. Result is as follows: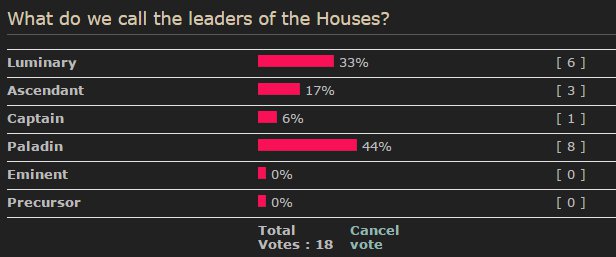 Admin




Posts

: 68


Join date

: 2015-01-07




---
Permissions in this forum:
You
cannot
reply to topics in this forum